Light weight
As you can see, the folded dimensions are a huge advantage, but the unrivaled low weight is even more significant. Your scooter will need to be lifted around several times a day, if only to clear a curb or into a vehicle. In some cases, there is no elevator, so you will need to carry your scooter up a flight of stairs.
For such, every pound can make a difference!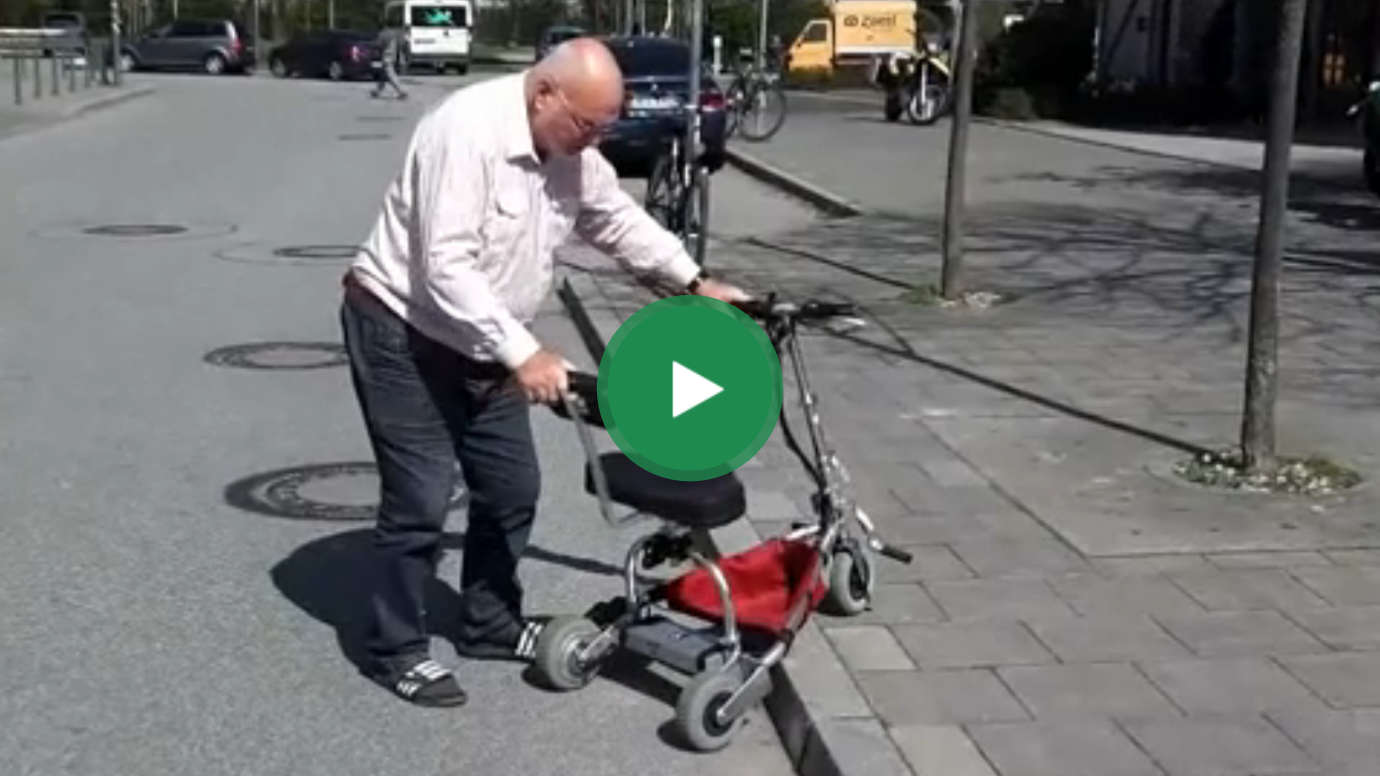 Luggage
The TravelScoot ™ can also transport more luggage, both in terms of weight and size, that any other travel mobility scooter. Light hand-carry luggage has room on the canvas caddy (included with every TravelScoot). Beyond that, anything that fits across the frame can be loaded and carried. When the frame is "full", the rider gets on and off as on a bicycle; the backrest can be removed on mere seconds. And you still have room in front for the folding basket (see "accessories").
Available in two different models and sizes
Both versions are available in Junior size for smaller persons (approximately +-5 feet in height and proportional weight).
Show Scooters
Batteries
There are three different batteries to choose from which can be installed and removed in seconds. The Deluxe version is equipped with the 5.25 lbs (2.4 kg) light weight Li-ion battery and weighs 35 lbs (16 kg). The cheaper version comes standard with the 19 lbs (8.5 kg) heavy lead battery and even with 50,6 lbs (23 kg) it is still by far the world's lightest electric mobility scooter.
6.3 Ah lithium-ion battery is designed for the TravelScoot Shopper, but can also, as in all other TravelScoots, be used as the main or the backup battery.
features
It's not hard to see how the
TravelScoot ™

makes your life easier every day.
Extremely lightweight
Smallest packed dimensions 34 x 12 x 10 inches (86 x 31 x 25 cm)
Ideal for travel by air, ship, rail and public transport -

TravelScoot ™

and Travel
Batteries are approved for air travel - Tips for Airports
High-strength aircraft-aluminum construction
High capacity: 320 lbs plus baggage
Carrying case and canvas caddy for lighter loads include.
6 kph / 3.7 mph top speed; exceptionally long range due to light weight
Pedestrian-zone approved, inside and outside of public buildings
Built-in cane/crutch holders standard
Can be ridden stiff-legged (e.g. leg in cast) - Foot Rest Support Plate
Handlebar and seating position height-adjustable
TravelScoot ™

for mobility-impaired youth and children

Because of its extreme light weight and adjustable speed, the TravelScoot Shopper (available in both full-size and Junior) is well-suited for mobility-impaired youth and children. Parents who have to load and unload their child's mobility aid from their car or public transport will find the Shopper's unbeatable light weight is especially helpful. The Shopper's top speed can be programmed to 50% walking speed, allowing the supervising adult to remain in constant control.
The
TravelScoot ™

mobility scooter for short-statured people

The TravelScoot Shopper Junior can help people of short stature, who often have to contend with mobility challenges, regain their mobility. Even people with Achondroplasia will find it easy to reach the foot rests and hand controls.